Wednesday August 22nd, 2018
Posted by:

Vincent Lecamus

Category:

Data collection, Rail, Exhibitions & Conferences, GIS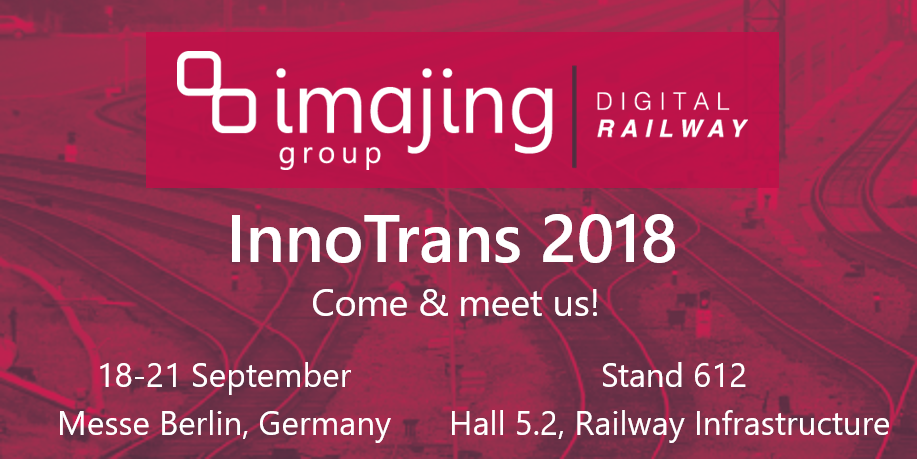 imajing group will be present at Innotrans 2018! This international exhibition held every two years in Berlin, is the leading international trade fair for transport technology.
Composed of two experienced companies imajing group, (imajing & Immergis) brings its expertise and its teams of international experts to meet railway networks requirements by providing appropriate surveying technologies, services and management tools.
Our team will present you our expertise and technologies from spatial data collection and survey technologies to railway data management and web-GIS tools:
APPLICATIONS
Safety & signals
Railways automatic control systems compliance (ERTMS – Europe, CTCS – China, CBTC – US)
Identification and securing of dangerous areas (railroad crossings, train stations, etc.)
Infrastructure & Assets Monitoring
Exhaustive and structured inventory of rail assets
Change detection and automatic database compliance check
Vegetation and pruning plans management
GIS & Modelling
Mapping
Management of linear referencing system (LRS Milepost + distance)
Track alignment and profile
3D modelling
TECHNOLOGIES
A Mobile Mapping System (MMS) with a GIS processing software
Imajbox® and imajview® are surveying and mapping solutions for field operations and engineering teams:
IMAJBOX®: MMS mounted on-board any trains to easily collect 3D geo-referenced images of the railway network
IMAJVIEW®: GIS processing software to extract 3D data from surveys with geographical and linear positioning and attributes
Web-GIS tools
Imajnet® and ImmergisWeb® are web-solution designed for network information sharing, decision-making and monitoring:
IMAJNET®: web service to easily centralize and integrate immersive view into GIS applications (standalone application, plug-in, widget or SDKs)
IMMERGIS WEB®: collaborative Rail Asset Management System to monitor nationwide rail assets with access to immersive views
SERVICES
Rail projects
Complete rail network & asset surveys with analysis, including:
Pre-and post-rail works railways surveys
GIS data extraction according to project's thematic
Assets inventory
Referencing System by track/line (LRS)
Deliverables adapted to clients' needs: database, reports, recommendations, works scheduling, budgeting, etc.
Consulting services
Come and meet imajing group's team in our stand n°612 (Hall 5.2 Railway Infrastructure) to discover all our solutions!